SSAFA created a hybrid fundraising experience that was accessible at the event or at home. The 13 bridge walk included a collectable trail, selfie filter, and an opportunity to donate.
How hybrid fundraising events reach more supporters in 2021
First hosted by SSAFA in 2019, the 13 Bridges Challenge was a way for the armed forces charity to immerse supporters in the sights and scenery of London. The event involved a ten mile walk from Tower Bridge to Royal Hospital Chelsea, crossing the 13 bridges of London along the way.
After a virtual-only fundraising event in 2020, 2021 saw new opportunities for hybrid fundraising. The charity welcomed back an in-person event, with adjustments for social distancing and digital engagement. In 2020 the charity saw 200 signups. This year, 508 sign ups made the event a sell out.
The hybrid fundraising event worked by creating a digital experience that supporters could access from anywhere, at the event or at home. The experience included a 13 Bridge trail, branded selfie filter, and an opportunity to donate.
This made the hybrid event secure, adaptable, and widely accessible. It helped SSAFA reach new and existing supporters and kept engagement high throughout the challenge
---
Speaking Good Thyngs
"The team have been super helpful and really amazing throughout the whole process. They've guided us the whole way and made it really easy. Anything we've asked for, wanted to do, or had an idea about, they've found a way to accommodate. It's been a really good journey."

Hannah Siddle, Challenge Events Officer at SSAFA
---
Getting active and staying connected with hybrid fundraising events
Prior to the event, participants were sent a physical brochure containing their route map and relevant COVID safety information. The brochure contained 2 QR codes, one to scan at the beginning and one to scan upon completion.
The first QR code took them on a journey along the bridges, providing interesting facts that kept engagement with the event high.
SSAFA included a collectable trail for children and families. The mission was to find all 14 items placed, as posters, around London. Collectable trails are like loyalty stamp cards, but digital.
All 14 QR codes were unique so that stamps could be collected and completed. Each stamp would provide the supporter with a fact or clue.The collectable experience injected some fun into the challenge for all ages and was even compatible with remote participation.
Along the bridge trail, additional QR codes were used as donation points for people who wanted to give whilst walking. When finished, a final QR code presented supporters with a personal thank you from SSAFA, as well as a final opportunity to donate or take a fun selfie.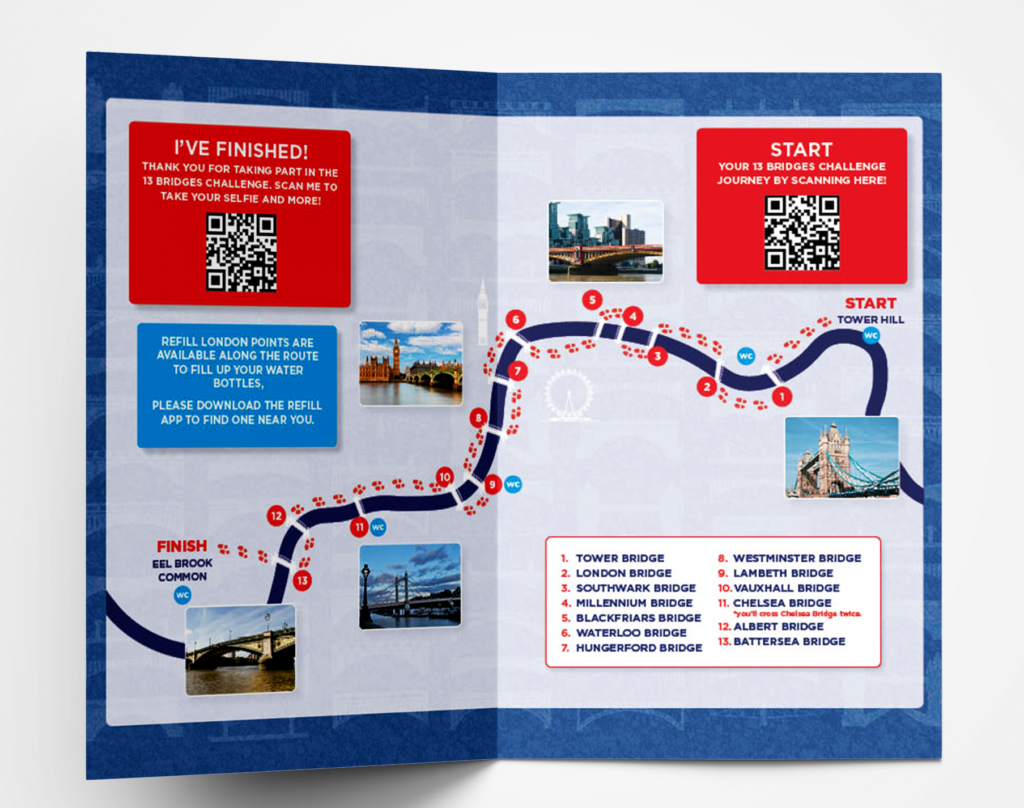 ---
How to introduce supporters to charity events with a digital, virtual or hybrid twist
SSAFA have introduced cashless fundraising alternatives to their supporters in the last two years using Good Thyngs. They have upgraded their collection buckets, distributed interactive posters and included the cashless technology at dinner events.
The gentle implementation of new digital fundraising tools, together with the touch-free, digital and QR code trends since 2020 has worked in SSAFA's favour.
"Our existing supporters got on board with the QR codes really quickly and embraced this new way of working,"

said Hannah.

"We wrote out instructions in the booklets for how to use the QR codes so they could follow along if they needed to."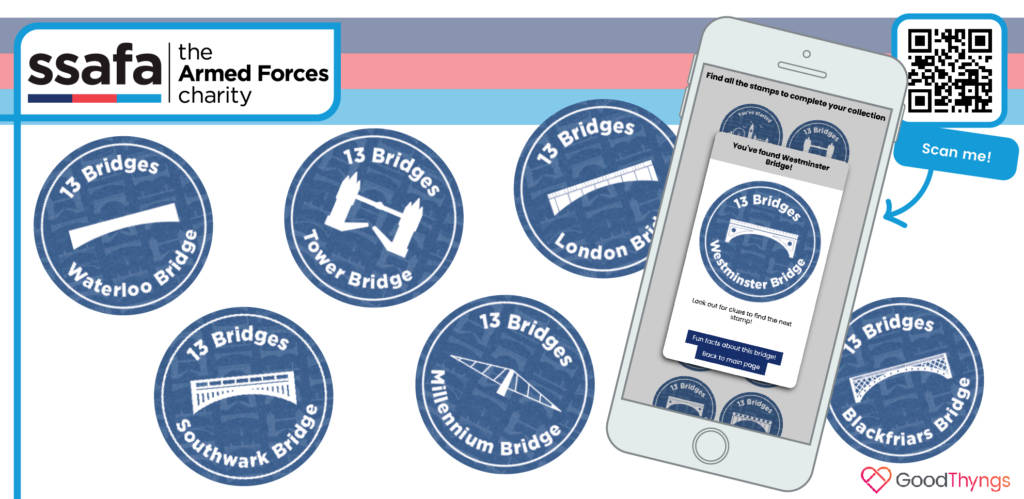 ---
The outstanding results:
2112 connections
457 users
709 conversions
£19.13 average donation
---
Hannah's advice for charities thinking about virtual and hybrid events

"Trust in hybrid events. It's the way the world is going at the moment, so we need to be moving in that direction. If you are coming up against reluctance from volunteers or supporters, try doing some engagement pieces and explain the benefits. Once people understand how much time, fees, and processing that the charity is spared by having digital options, it'll be easier to bring them onboard."
---
Feeling inspired?
Levelling up your 2022 fundraising events is quick and easy to do with Good Thyngs. If you want to see just how easy it is to get started please book a free demo.
If you would like to find out more about how contactless donations could boost your charity's fundraising strategy
Call 0333 123 1243 today